Viktor & Rolf's Spring 2010 dresses + Dazed and Confused magazine = best spread. ever. The tulle the tulle the tulle! I don't even know else what to say except that I would give an arm and a leg to have one of these in my closet. I would drag myself to winter formal next weekend if it meant i got to get my hands on any of these beauties. PS The tulle? the organza? the fabric! on the first model's head!! I. Am. Dying. It's not the most creative spread in the world but who needs creativity when you have these gowns? It would only detract from their sheer awesomeness. Their immense, immeasurable, unsurpassable awesomeness.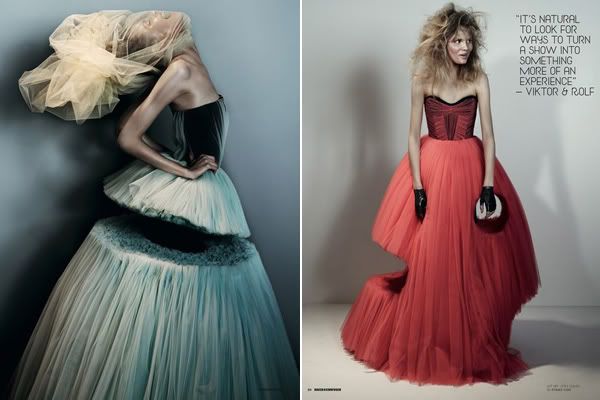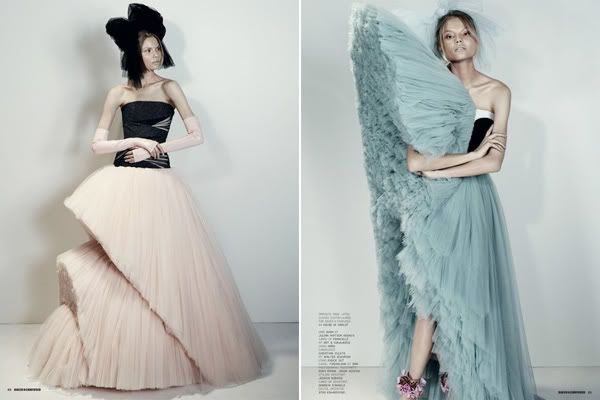 And speaking of spring fashion, the new Sophomore lookbook just came out. But it's a film (!?!?) Pretty awse as well. It's sooo 90s much like a lot of things in fashion these days; I'm love love loving it. Also, I think I've developed a bit of a soft spot for Lucien Smith (the black guy with the sunglasses. Something about him is extremely adorable to me.) Watch the video
here
. It's worth a looksie.
- A