Burberry Prorsum's line is my absolute favorite so far of all the men's shows I've looked at. The coats are amazing. I would like them for my very own. That brown leather aviator jacket (second from left) is so WWII airforce-awesome, I don't know what to do with myself. Also of note - the boots. I usually hate tall boots on men for some reason, but these are kind of dope. And of course i had to include a baggy sweater look - but how cozy-seeming is that sweater?! ahh. Lastly, a personal favorite ....CAMEL COAT. OMNOMNOM.
My second favorite (a very close second). It's so classic, but there are some subtle twists and innovations that really make it noteworthy. Like the suit jacket on the far left - it's actually a shirt with a suit-vest over it, from what I understand. I'm also in love with the pants. I'm a total sucker for this whole cuffed, too-short pants trend. I mean, those khakis are fucking adorable. (It seems that these days pants are shortening and jackets lengthening. You heard it here first - no maybe like....10th....) And finally, toggle coat! I need to get one of these before next fall. Who cares if California weather rarely drops below 60 degrees! (PS CAMEL COAT AGAAAAIN)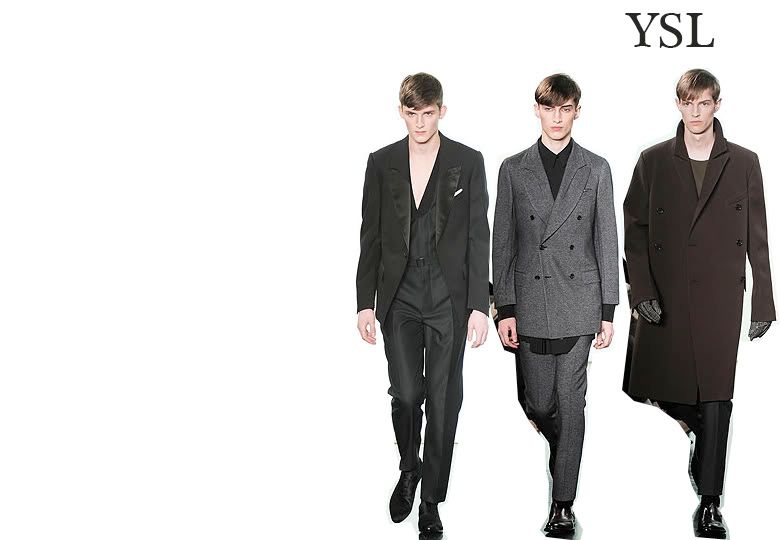 YSL is like always great. Men's and women's lines both. Not much to say here, the cut of the clothing is just so nice. I want my prom date (*snort*) to wear the suit on the left. He will be in YSL and I in Viktor and Rolf. Because by May I am going to be a millionaire and thus able to squander thousands upon thousands of dollars on such things.
Last but certainly not least, Viktor and Rolf. CUTE PANTS. I think it's an eyeglasses print (the one's in the middle). J'adore (I take spanish. Sorry if I've got that wrong...). I wish my little brother would let me dress him; I would find pants and embroider little glasses on them (future DIY project perhaps?!?!) and force him to wear them to school. Every. Single. Day. ANYway, the lovely suit on the right rivals that YSL one in the whole prom-date-outfit contest/search/etc. I'm quite fond of the lapels. Also, loving the shoes. Are they Doc Martens oxfords? I can't tell.
___
So that's my men's fall fashion post. I've never taken much of an interest in men's fashion, but it's actually quite inspiring/fun. I can now sit around ad wish that i knew boys who dressed this well. Hah! But really, I enjoyed this. And I feel pretty accomplished, having photoshopped all these little runway collages.
Before I forget, all photos via
GQ
.
Women's fashion week is coming up. Early february. Can't waaaait.
- A
note: I just noticed my liberal usage of parentheses in this post...I will try to think through what I write more and end up with fewer side notes in the future. Lo siento.