So today was the day that I was supposed to go 'Chinatowning' with Robyn, Maddie, Carmen, and Helen. (a.k.a C.H.A.R.M. hahaha) Except there was a train crash before we got to the station so we couldn't go after all. Major bummer. So we walked to Old Town instead, stopping at Salvation Army on the way. I think everyone in SA got a kick out of our antics. Helen and I found these straw boater hats and we all put one on, much to the other shoppers' amusement. I was rather entertained by them being so entertained by us. The result: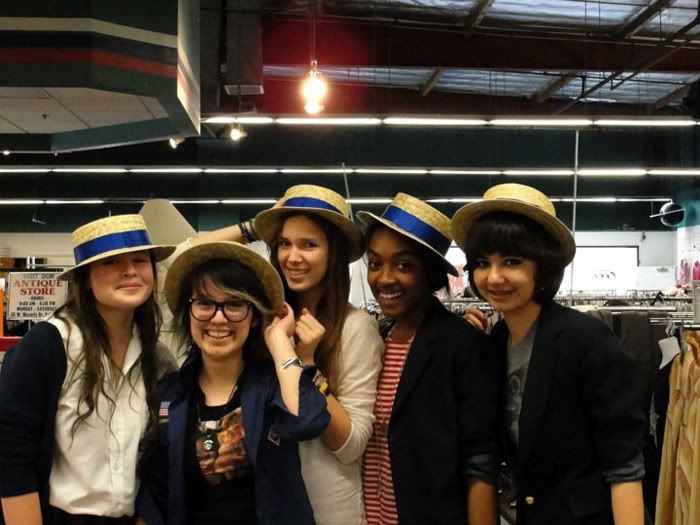 Aren't we super cool? Anyway, we continued on to Old Town where a miracle of all miracles, wonder of all wonders took place. So, there are these shoes, these lovely pointed oxfords from Urban Outfitters that I have been web-stalking and wishing that I owned. They weren't expensive, but I didn't have sufficient funds to make them mine either. But today when we went to UO, lo and behold, there they were! In the sale section! Marked down to 20 dollars!! And there was only one pair in my size!! Bask in their glory:
As soon as I saw The Shoes, I called my dad - because he had given me some extra cash for the day - and asked if I could get them. My dad, if anything, is a man who understands the importance of a sale. (He is basically obsessed with buying things on woot.com.) So I didn't even have to do any convincing. The conversation went like, "Dad there are these shoes that I've been really wanting. And they're on sale for $20. Can I -" "Yes." "I-" "Yep. Bye." PERFECT.
They make me so happy! Robyn said they look very "elven", and I will admit they are somewhat...interesting. But I've been pining after these for months now. Such a sense of fulfillment right now.
AND they look really good with the shirt I got for $4 at Salvation Army.